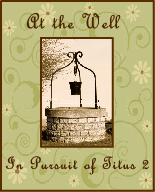 I just found a new site about to start up. It sounds like it's going to be great. The blog is about in search of Titus 2! How cool is that? Those of us that were at ladies night out at CCC can really appreciate this, as our Pastors wife, Pastor Connie just discussed this very topic! Am really looking forward to this blog starting up. They will be kicking it off with gifts. Here are the gifts:
A brand new blog facelift valued at over $50donated by
Doodlebug Designs
A custom blog card (or mom card, if you don't blog) design, valued at $30. You'll receive a high quality .jpg, .png or .pdf file – you can do the printing yourself or have them printed online or locally – the options are endless. Print only as many as you need!The file is yours to keep.donated by
Simply Amusing Designs
"Fill 'Em Up!" ... a "cookbook" for parents to use with kids which includes a devotional/Bible study that goes along with each recipe.donated by
Heavenly Homakers
A signed copy of the book "The Devil in Your Garden"donated by Natalie Witcher
from I AM (not)
A digital scapbook dowload packagedonated by
The Digital Scrapbook Place
A $25 Starbucks gift certificatedonated by
At the Well
Go check them out
here
!